The DIY NAS Giveaway Has a Winner, DIY Studio Lights, and Open Source RGB LEDs!
I was checking my notes and looking for some interesting things to include in today's post, and I remembered that Brian Moses's DIY NAS giveaway has just come to and end!
Brian Moses's 2019 DIY NAS giveaway has ended
I'm sorry if you missed your chance to win. He'll be doing it again soon enough, though, so if you fail to keep track of Brian's social media, it won't be my fault if you miss the next one!
I'm taking credit for this year's build's theme. Brian wanted to do something a little different this year, but he wasn't sure exactly what to change. I suggested he build a diminutive NAS using laptop-size hard drives. You pay a bit of a premium for that, but it is quite small and adorable!
Congratulations Timothy Malone!
DIY Studio Lights
I've been recording more vlog-style videos for YouTube lately. I'm getting the best results using my DJI Osmo Pocket, but the lighting in my office just isn't ideal. I'm recording at ISO 400 on the Pocket, and there's a lot of digital noise due to this. I'd like to get down to ISO 100 if I can.
I'm planning to build some do-it-yourself studio lighting based on the work of DIY Perks. He's using strips of 12v daylight, warm white, and ice blue LEDs sourced from Amazon–all three colors in each light.
He can daisy chain multiple lights, and he can adjust the intensity of each of the three strips independently. This allows him to get the temperature and brightness just right.
Brian and I are FPV quadcopter junkies, so we have a lot of LiPo batteries around. Our builds will definitely use XT60 power connectors instead of barrel connectors, and we haven't decided on our form factor yet. This will be a fun CNC and 3D printing project!
Open Source RGB LED Rings – a.k.a. OoberLights
Brian and I are collaborating on an electronics project. We want a fun piece of hardware that we can include in Brian's NAS giveaways, and we've been talking about ideas for months–possibly years!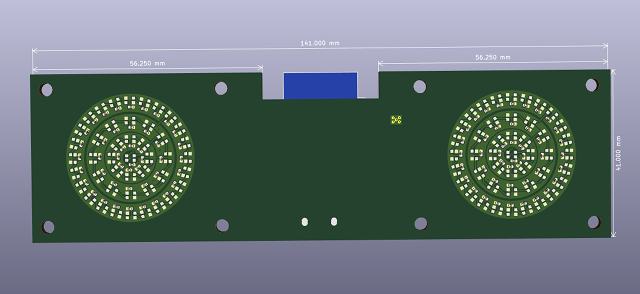 We've decided to simulate a Dekatron using RGB LEDs. Each OoberLight unit will have two discs consisting of concentric rings of RGB LEDs–a total of 45 LEDs per disc. Each OoberLight will fit in a 5.25" drive bay, but we'll also have a model available with a display case so you can show it off on your desk or on a shelf.
The OoberLights receive power via USB, and they can be controller via USB serial or an HTTP REST interface over WiFi. We haven't decided on a license yet, but the hardware and software will be 100% open source.
You can read more about the OoberLights project on my blog.