You Should Be Roasting Your Own Coffee At Home!
I have an awesome coffee brewing equipment at home: A Rancilio Silvia espresso machine, a Baratza Preciso grinder, an Aeropress, two Moka Express ports, a couple of French presses, and a cheap pourover cone. Until recently, I've only been buying coffee that's already roasted. Can you believe that?
I get most of my coffee beans from Craft Coffee. They are an excellent subscription service. Brian bought me a 6-month subscription for my birthday many years ago, and I've been drinking their coffee almost exclusively ever since. Laziness has kept me from attempting to roast my own beans.
Air popper and a 4-pound green coffee bean sampler
A couple of weeks ago, I bought a popcorn popper with a free 4-pound sampler of coffee beans from Sweet Maria's. The whole thing cost me less than $30 with shipping. I've already roasted nearly two pounds of coffee. I consumed one entire pound of coffee in lattes, and I'm nearly half-way through the second bag.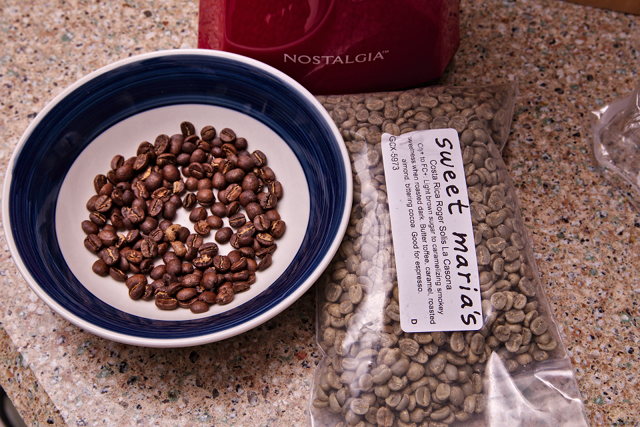 The prices are amazing. As I'm writing this, there's a delicious-sounding Ethiopian bean on sale for $5.00 per pound. I'm used to paying $15 to $20 or more for a nice 12-oz bag of roasted coffee.
How much work is involved in roasting coffee?
Spending 75% less on coffee sounds great, but it would be a terrible value if you had to spend hours roasting the coffee beans. It doesn't take hours to roast. It only takes minutes, and I barely have any idea what I'm doing!
I'm aiming for a fairly light roast. I'm stopping the roast shortly after the beans start to crack. Boy do they crack! It really does sound like you're making popcorn at that point!
I pour about two ounces of green beans into the air popper, and I switch it on. That's it. I keep an eye on it for a few seconds to make sure the beans start swirling around, then I wander off to start making my morning latte. I can usually have my mug warmed in the microwave, and my portafilter tamped and ready to go by the time the cracking starts.
It takes three to four minutes in the air popper for a light roast. I'm told roasting time will approach seven minutes for a dark roast.
You can roast a small batch every day
You are supposed to wait at least 12 to 24 hours after roasting before brewing your coffee. For the first week, I was roasting just a little more than one day's worth of coffee in each batch. I was roasting tomorrow's coffee while I was grinding yesterday's batch. It is awesome!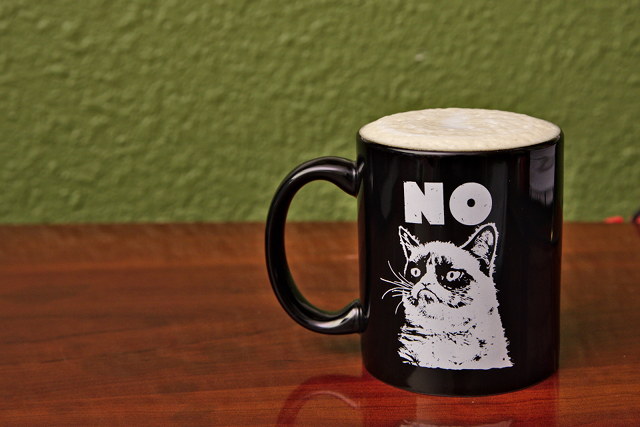 This went well for me, until I had pulled a gusher of a shot. I barely had enough roasted beans left to try again!
Now I'm roasting about three days ahead. Sometimes I'm drinking beans roasted yesterday. Sometimes I'm not. I'm just trying to make sure I have coffee readily available, but not so much available that I can't drink it quickly enough.
This still sounds like too much work!
Maybe a coffee subscription service is more suitable to your needs. I've been drinking Craft Coffee since 2014. I'm not going to lie, either. I've been drinking Craft Coffee for free the entire time, too. Brian bought me my first six months, and enough people have been reading my blog and using my coupon code to keep me brewing for free ever since.
My coupon code ("pat1245") will take 15% off your bill, and it will get me a free bag of coffee. I enjoy Craft Coffee, and I think it is a good value. I think it is an even better value with the coupon code!
If you need to roast enough beans to make one of Brian's 5-gallon batches of nitrogenated cold brew coffee, roasting two ounces at a time with a popcorn popper might take all day. If that's what you're doing, my home roasting plan is probably the wrong option for you!
I'll probably be shopping for my next batch of green beans at Sweet Maria's in a week or so. I'll be sure to report back and let you know how that goes!