Brian's Top Three DIY NAS Cases as of 2019
Since building and blogging about my first network attached storage (NAS) computer way back in 2012 and then writing all my subsequent DIY NAS build blogs, I've tried quite a few different cases when building these machines. Beyond that, I've stared at the specifications of countless other models of cases looking for things that fit my criteria: typically something small and can fit at least six 3.5" hard drives.
Ahead of each DIY NAS build comes lots of time researching components' specifications and prices. The two components I wind up putting the most amount of time and energy into researching are the motherboard and the case. In the eight years that I've been researching and building DIY NAS machines, I'm confident that I've seen or glanced at nearly every single case that meets the above criteria.
One of the more interesting things I've noticed is the staying power of Mini-ITX-sized cases, especially the ones that hold enough hard drives to host a DIY NAS build. I've been building my own computers for a really long time and I'm spoiled in that I'm constantly seeing new case designs or revisions of old favorites' designs on an ongoing basis. But for DIY NAS builds, I'm usually seeing the same cases build after build.
Ultimately, the case has become important enough to me that I made a promise to myself when I turned the DIY NAS and EconoNAS builds into something I was repeating on a regular basis: each time I built a DIY NAS and I was envious of the case, I'd acquire that case and transplant my own NAS into it!
Honorable Mentions
Before we get started counting down and in no particular order, here's a quick list of other cases that missed out on making my own personal top three, but your opinion might differ. Some of these cases may be newer, while some are definitely older and no longer being made. But they either meet my criteria above, or have enough other features that they make up for missing out on some of that same criteria. Some of these cases I've worked with and others I've been tempted to buy. All of these cases share one thing in common: I'm quite confident that they'd work well in a DIY NAS build, and I wouldn't be surprised at all to see one wind up in one of my future DIY NAS builds!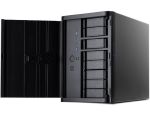 The SilverStone Technology DS380 (specs) is the very first case that I used twice in building DIY NAS builds, first in the DIY NAS: 2015 Edition and then again in my most powerful DIY NAS build, the DIY NAS: 2017 Edition. In building each of those machines, I wound up picking the DS380B for the same reason: price to performance. It was the first Mini-ITX case with 8 hot-swappable drive bays easily available from the front of the case that I discovered which didn't induce a tremendous amount of sticker shock. Both of the 2015 and 2017 versions of my DIY NAS builds wound up pushing my budgetary limits, and finding a great case at a decent price really sealed the deal for me. In 2015, I was a little green with envy after building that year's NAS and comparing it to my own at the time.
Key Specifications:
8 x 3.5" Hot-swappable drive bays
Supports Mini-ITX motherboards
Exhaust fans right alongside the drive cage.
Mini tower case layout (vertical)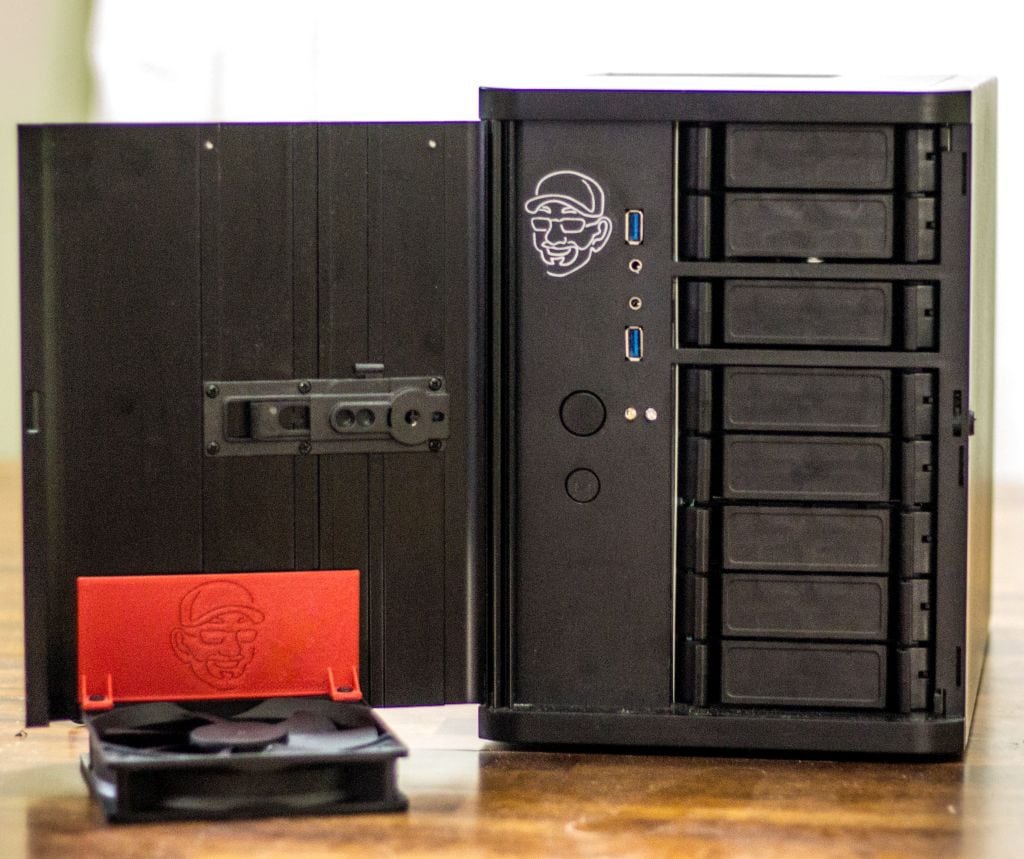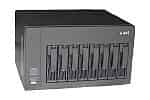 When I discovered the U-NAS NSC-800, I immediately knew which case I'd be using in my next DIY NAS build. When I did wind up building the DIY NAS: 2016 Edition, I knew that I'd have to go ahead and use this as an opportunity to upgrade my own NAS. That upgrade included also swapping out the CPU, motherboard, power supply, and RAM too, but of all the upgrades, the one I enjoyed most was using the U-NAS NSC-800 case. If I had written this blog at any point between late 2015 and the spring of 2019, it would've found itself perched atop this list of favorite cases.
Note: I am a little concerned to find that the U-NAS NSC-800 shows up as "Out of Stock" on the U-NAS website. I hope this is a temporary condition, as it sure is a nice case!
Key Specifications:
8 x 3.5" Hot-swappable drive bays
2 x 2.5" internal drive bays
Uses a 1U ATX Power supply
Desktop case layout (horizontal)
316mm x 254mm x 180mm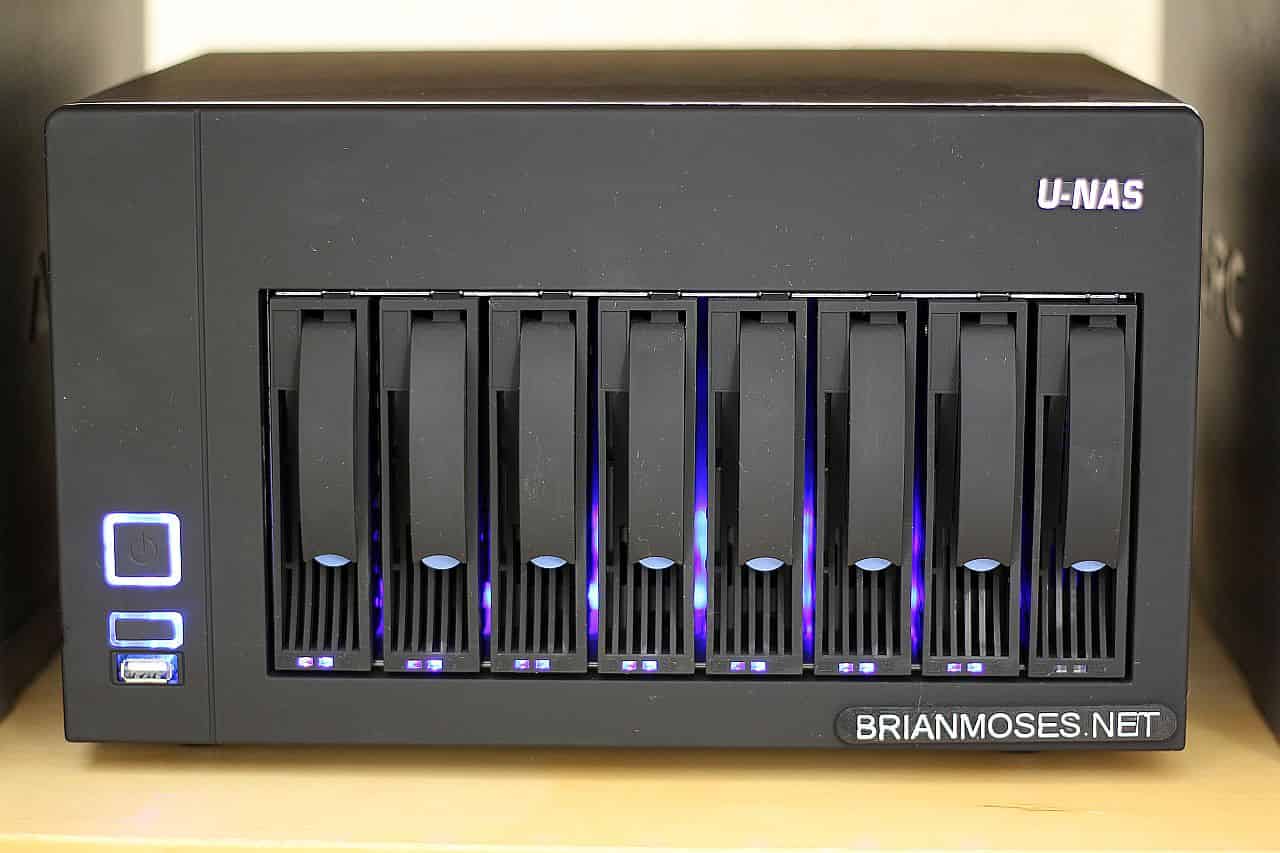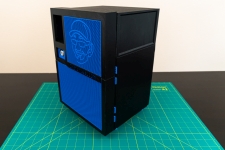 Shortly after publishing the DIY NAS: 2019 Edition, Toby K. contacted me asking if I'd be willing to take a look at a prototype of a 3D-printed DIY NAS case he'd designed and printed himself and named the MK735. When I received and unboxed the MK735, I was immediately stunned and wrote a glowing review of the MK735. It is hands-down the most impressive 3D-printed thing I've ever put my hands on.
There's just something about the feeling that you get when you're able to make something on your own that's every bit as good (or even better!) than what you can buy. The fact that I was able to tweak the design a little bit to customize the MK735 means that my DIY NAS gets to be a centerpiece and focal point in my office. It's a pretty awesome feeling, and I hope lots of people get to experience that in printing their own MK735s.
Key Specifications:
3D-printed
7 x 3.5" hard drive bays
2 x 2.5" internal drive bays
Excellent airflow across the surface of the drives
Customizable
What do you think?
While I know not everyone has access to a 3D printer or has the time and patience to spend well over 200 hours printing and assembling their own DIY NAS case, what other thoughts do you guys have on my favorite DIY NAS cases?
Did I overlook one of your favorite DIY NAS cases? Please let me know about your favorite cases in the comments below! After all, if it weren't for Toby's sharing of his own thoughts, this top three would look very different! I'd love for my next DIY NAS build to be in a case that one of our readers clued me in on!