When I saw the headline, I was expecting to be disappointed. Could Josef Prusa manage to make a smaller, more budget-friendly 3D printer that is worth owning? When 3D printers start getting too much smaller than the original Prusa i3, they quickly lose their usability. And where can you save money? You're still going to need stepper motors, stepper drivers, a heated bed, and a micro controller. The non-moving parts are cheap, no matter how big they are.
Then I started reading his blog post. He did it. I don't quite understand how he managed it.
The print area is about an inch smaller in each dimension than my own 5-year-old MakerFarm Prusa i3, but still has an extremely usable 7" x 7" x 7" printable area. It is the same style of printer as the $220 Monoprice Select Mini, but with a much larger build area. I don't think I've ever seen a printer of this style nearly this large!
I always hear good things about the Monoprice Select Mini. It is a great little printer for the price.
What do you get for an extra $130 with the Prusa MINI?
You get a lot. The build volume of the Prusa MINI is more than three times larger than the Select Mini, and the surface area of the heated bed is more than twice as large.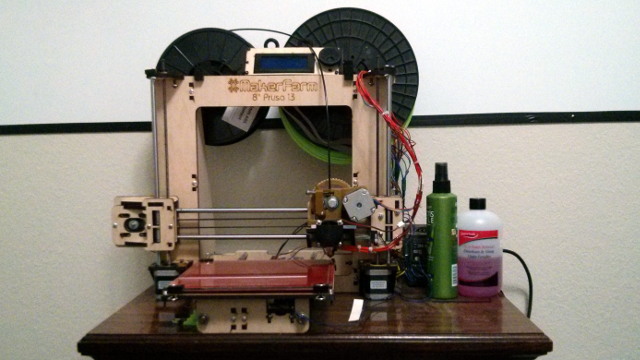 You also get the ridiculously quiet Trinamic stepper drivers. I really wish my printer had these! You get the same type of removable magnetic heated bed of the Prusa Mk3, a microcontroller with an Ethernet port, optional WiFi, and automatic mesh bed leveling.
Almost any one of those individual features would be worth an extra $130.
Why pay $400 more for a Prusa Mk3?
You can read the full list of differences in the table on Josef Prusa's blog post. I'll tell you the reasons why I'd prefer the Prusa Mk3.
Printers like the Prusa MINI have always had problems with rigidity. Having a long arm holding the hot end in the air is problematic. This will likely limit your print speeds, especially if you're after a perfect print. The Prusa Mk3 has to be a much more rigid machine.
I don't like Bowden tube extruders. The Prusa MINI's long arm probably wouldn't work well if it had to carry the weight of a stepper motor on a direct-drive extruder.
I'm definitely tempted!
My 3D printer is getting long in the tooth. It is loud. It doesn't have automatic bed leveling. I'm always thinking about picking up a Prusa Mk3, but I really haven't done all that much 3D printing since I bought my Shapeoko XXL CNC machine, so I haven't been able to justify the upgrade.
I figured I'd keep my old printer around anyway, since it prints TPU like nobody's business. Maybe I'll use my old printer for TPU and nylon jobs, and use the less capable hot end of the Prusa MINI for less demanding jobs.
What do you think? Are you excited about the Prusa MINI? Do you think I should upgrade? Let me know in the comments, or stop by our Discord server to chat with me about it!