We Bought a Real Electric Bike: Aventon Pace 350
We bought a real electric bike for my wife. It is already here. I just finished assembling it and taking it for a test drive down the street. I have no idea if this Pace Aventon 350 will meet our expectations, but I'd like to tell you about the motivation behind our purchase, and how we zeroed in on this particular model.
Where this journey began
Two years ago, I bought a folding electric scooter. You ride the Hover-1 XLS like a bike, but it completely lacks manual pedal power. We live just a few houses away from the awesome paved bike trails that connect many of our parks here in Plano, TX. I bought the bike so I can carry my backpack to the park and fly FPV freestyle quadcopters.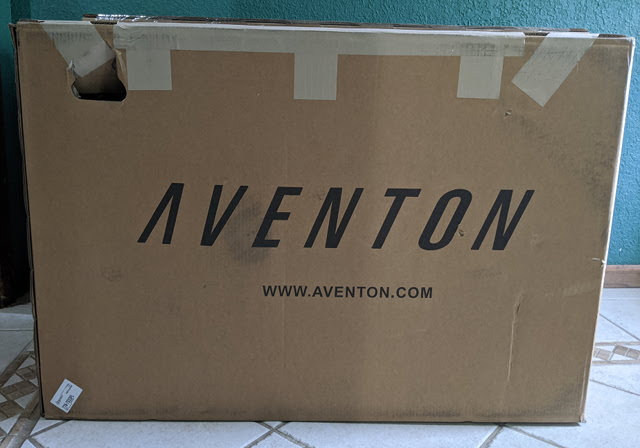 That's what my Hover-1 XLS has been limited to. It does fold up, and it is possible to put it in the back of our tiny SUV, but it is a pain in the butt. It weighs about 50 pounds, and that doesn't sound heavy on paper, but it folds up into what amounts to a 4' tube. It is difficult to hoist that thing up and into the car, so it has been confined to the bike paths near our house.
We bought Chris a simple pedal bike
My wife owns a nice spin bike. She used to participate in and teach spin classes here in town. She hadn't done that in years, though, and she said she wanted to get back in shape, so we bought her a basic pedal bike. It was the cheapest one we could find on Amazon.
It is a terrible bike, but it served its real purpose. We wanted to figure out what she'd really want out of a bike. How big does the bike need to be? Does it need street tires or off-road tires? Something in between?
As it turns out, the biggest problem is the power train. When she heads home from the park, the end of the ride involves climbing a bit of a hill. How far can Chris ride before she gets tired? Will she be able to make it up that hill if she pushes farther into the park?
She has definitely been suffering from range anxiety, much like folks with fully electric vehicles. This has kept her from riding the bike. She prefers to ride the spin bike in the house.
Everyone should have an e-thing
I addressed all my complaints about my Hover-1 scooter by upgrading to a [self-balancing electric unicycle (EUC)][]. My little InMotion V5F has 14 miles of range, goes 15 mph, and only weighs 25 pounds. It is fantastic, and a ton of fun.
Brian has an electric long board. Alex has a OneWheel XR. I have my unicycle. What should Chris be riding?
Today @patsheadcom was showing off his brand-new #electric #unicycle while we flew #quadcopters. I took this chance to record some cinematic footage that he could use his blog (See: https://t.co/nePTRq59rq) and then #disaster struck! #wasted pic.twitter.com/amR7cs1yaJ

— Brian Moses (@briancmoses) May 10, 2020
We tried to teach her to ride the unicycle, but she's having difficulty, and she's getting frustrated. We've been going out riding quite a few times every week during the COVID-19 pandemic. She wanted an upgrade, and she decided that upgrade should be an electric bicycle.
Why an electric bicycle?!
She wants to be able to exercise. Her plan is to pedal until she gets tired, then use the electric motor. These electric bikes also offer pedal assist, so you can let the machine do a portion of the work for you.
The Pace Aventon 350 vs the Ride1Up 500
I didn't have to research long before I narrowed our choice down to either the Pace 350 or the Ride1Up 500. I was very much leaning towards the Ride1Up.
They're both quality bikes, but the Ride1Up 500 has a more powerful motor, and it uses a 48-volt battery instead of the Pace's 36-volt battery. Everything else on the spec sheet is similar enough. If you're shopping, you should definitely check out the Ride1Up 500. The Ride1Up 500 is more directly comparable to the Pace Aventon 500, but with a price much closer to the Aventon 350.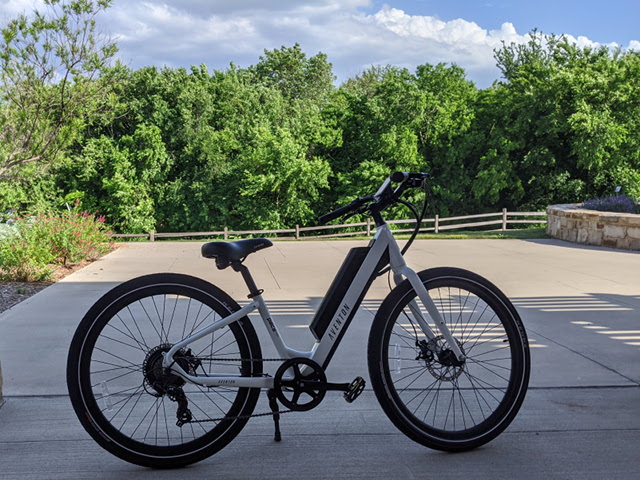 Chris is barely 5' tall. She needs a small bike. I read somewhere that if you're under 5'4", you're not going to be happy with the bike from Ride1Up.
The Pace Aventon 350 is available in three different sizes. We chose the small frame in the step-through configuration. This is working out well, because we wound up having to set the seat higher than its minimum setting!
The important specs of the Pace Aventon 350
This is all based on Pace's claims. We've had the bike out for a single 5-mile ride so far. We haven't had a chance to really put it through its paces!
The specs:
20 mph top speed (throttle only)
30 miles range (throttle only)
7 speeds (for the pedaling!)
46 pounds
420 Wh battery
350 watt motor
This should be an interesting upgrade from the Hover-1 XLS. The Pace bike weighs 5 pounds less, has 40% more battery capacity, a higher top speed, and more than twice as much range. Getting the bike into the car will probably be more of a hassle, though!
Pedal assist
When I started shopping for e-bikes, I was worried that all the e-bikes I've looked at only have one set of gears. They have 7 gears in the back, just like Chris's cheap 21-speed bike, but they only have a single gear on the pedal sprocket.
On Chris's old bike, 7th gear is too high for someone like me to make it up a hill, but it is also too low for me to use on flat ground. How is that going to work out on the electric bike?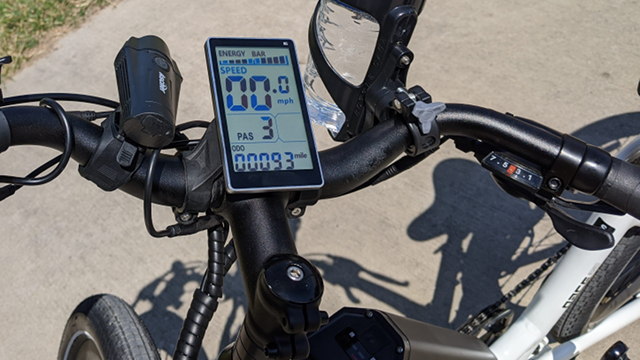 I didn't understand until I rode the bike, and I'm proud to announce that I understood before even getting to the end of my street! The magic of pedal assist easily makes up for the lack of available gear settings.
The Pace 350 has 5 levels of pedal assist. When the sensors detect that you are pedaling, the electric motor will spin up to help you out. The higher you set the assist level, the more power the system will apply.
I figured Chris would be using the throttle lever most of the time and the pedal assist would just be a bonus feature, but I think I've predicted this incorrectly. I followed her on my unicycle for five miles today, and she was pedaling almost the entire time.
We'll see if that's the case when I write the follow-up to this post!
The Pace Aventon 350 is just a bike!
My weird Hover-1 XLS scooter is extremely proprietary. Other than the brakes, just about everything on there is custom hardware. If something fails, just about the only way to fix it is to acquire spare parts from the manufacturer.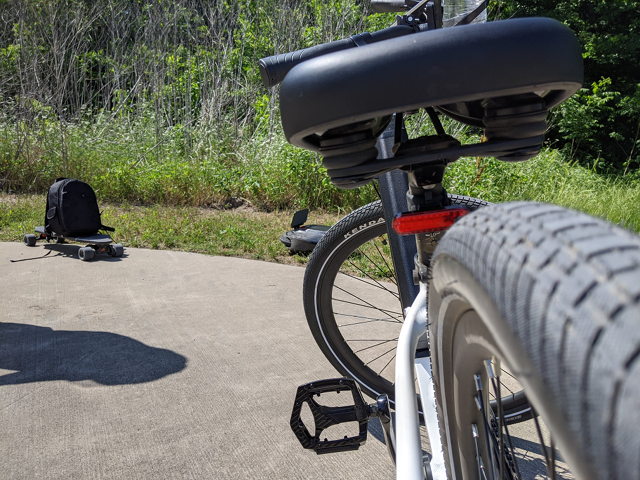 The Aventon 350 isn't much different than a regular bicycle. If you bend a wheel, need a new seat, or goober up the gears or chain, you can buy generic replacement parts. Other than the built-in bracket for the battery, even the frame is just a bike frame.
That makes this a little more reliable in the long run, and even quite upgradable in the future!
What's next?
First of all, she needs to put some miles on this sucker. We won't really know if it is any good or worth $1,100 until we let her ride it for a few hundred miles, right?
I'm more worried about what's going to happen to me and the 14 miles of range on my electric unicycle. I used to have the edge on range, but now she can out-distance me by at least 15 miles, and that's before adding any human power. Am I going to get left behind? Am I going to have to upgrade to a bigger wheel?!
Are you riding an electric bike? How about some other sort of personal electric vehicle? Did I make a good choice, or will we be disappointed in a few months? Let me know in the comments, or stop by the Butter, What?! Discord server to chat with me about it!