My New Travel Router: The GL.iNet Mango N300
I didn't expect to be buying a new travel router this week. I posted about my project to design a nice case for my network engineer's toolkit, and all sorts of tool suggestions started popping up. One of them reminded me of my outdated RavPower FileHub Plus.
The FileHub Plus is a tiny WiFi router. It has one Ethernet port for the WAN side of the network, and 802.11g for the LAN side of the network. It has an SD card slot for file sharing, and it has a built-in battery. It can run for quite a few hours without being plugged into power, or it can be used as a USB battery bank to charge your other gadgets.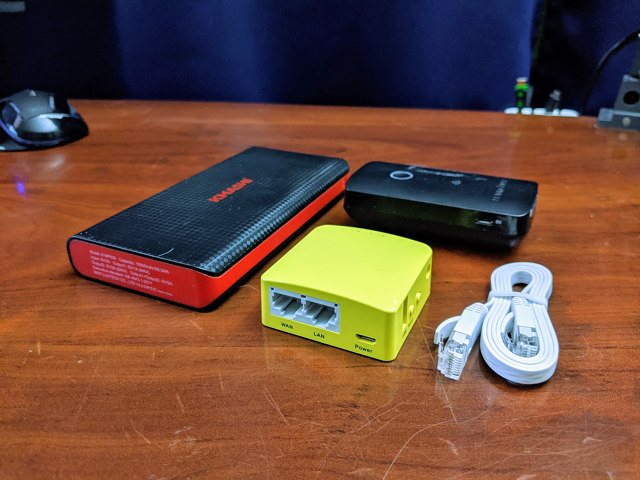 We used to refer to this as the WiFi Dingus. If I was ever visiting a place with little to no WiFi, I could plug the Dingus into an available Ethernet port, then I could sit wherever I wanted. When TheLab.ms first opened, they had two network ports in each classroom, and each classroom had seating for 16 people. This was problematic, but I had an easy band-aid.
I've wanted an upgrade for a long time
When I was actively using the FileHub Plus, I was wishing it could run OpenWRT. I don't remember what was blocking this from happening, but it sure looks like OpenWRT now runs on the FileHub Plus. Maybe I upgraded my hardware too soon?!
When I mentioned the RavPower unit in my post about designing a network engineer's tookit, two different people pointed me at the GL.iNet Creta AR750. It looks like a fantastic upgrade: 802.11ac, 2.4 and 5.8 gHz radios, 2 LAN ports, 1 WAN port, a microSD card slot, 16 MB of flash, and 128 MB of RAM. Best of all, it seems that all GL.iNet routers run OpenWRT out of the box! Not bad for a tiny $45 device.
Then I saw its little brother. The Mango N300 costs $25 less, weighs 20 grams less, while still having 128 MB of RAM. I ordered one immediately. Sure, I'm giving up an Ethernet port, a microSD slot, and a 5.8 gHz radio, but I can live with that. I don't use these devices all that often, and when I do, I don't use them for long. Saving money, space, and weight is a good trade for me.
Why would you buy a travel router without a 4G modem?!
The Mango is for a very different use case. You'd use a router with a 4G modem when all you want is Internet access. The last half-dozen phones I've owned can already act like a 4G WiFi router. There are definitely reasons to carry a separate 4G router, but I don't tend to get into those situations.
The Mango is handy when you need to connect to a local network. If I go to Brian's house, I'm confident that my laptop will have a good WiFi signal anywhere I choose to sit. When I visit my father, who knows what I'll get. Will there be good WiFi signal in my childhood bedroom? Maybe. Maybe not.
In this kind of situation you might want to be on the local network to Chromecast to the TV. Using your 4G router to get to the Internet won't help you there.
What's in the box?!
The box is smaller than every single router and switch in my house. You'll find a tiny Mango router inside the box along with an appropriate USB cable and a flat-pack Ethernet patch cord. There's also a manual with just enough diagrams and instructions to get you logged in to your new router and explain what the lights and switch mean.
I designed a simple #3dprinted thing that I probably don't need. It is basically a TPU rubber band with loops for the Ethernet and USB cables of the little Mango router thing. #3dprinting https://t.co/bqAeNrJaUB pic.twitter.com/cwVGe4XdZy

— Pat Regan (@patsheadcom) September 5, 2020
I'm excited about that last part. I love flat-pack cables. They roll up so nicely, they take up less space, and they're a bit easier to pack.
I already have two flat-pack patch cables in my laptop bag. One is a 14' cable I bought from Amazon five years ago. The other is a shorter cable that I believe came with my Steam Link. This new cable will be joining them!
What can you do with a Mango travel router?
The routers from GL.iNet all run OpenWRT. They have their own simplified web interface sitting on top of OpenWRT that makes it extremely easy to use your travel router in all sorts of situations. If you need to dig deeper, you can click on the advanced settings option, and you will be taken straight to the real LuCI web interface. How awesome is that?!
I've plugged the Mango's WAN port into my home network. I've connected the Mango's WAN to my home WiFi network. I've tethered my phone using the Mango's USB port. In each case, my laptop had no trouble connecting to the Mango and routing to the Internet.
The Mango has a simple interface for configuring OpenVPN and WireGuard connections. It supports operating as both a client or server for either protocol. I subscribe to Private Internet Access, and I was able to just download their configuration zip file, drop it into the Mango's OpenVPN settings, and connect right up to the VPN without issues.
What will Pat do with his Mango?
This part is surprisingly boring. My plan is to just drop the fresh Mango into my laptop bag in the spot where my RavPower doodad used to live. It has been at least two years since I needed to use the old travel router, and I don't expect to need the new one anytime soon. The upgrade was so inexpensive, though, and I'd hate to not have something like this in my bag.
That's a terrible answer, Pat!
You are correct. I have a better question. Why do I keep a travel router in my bag? What sorts of things would I use this sort of device for? Is it useful for things besides traveling?
It is a compact Linux box with both wired and wireless networking built right in. There are all sorts of things you can do with something like this.
If I ran a fresh network drop or just found one in a new location, and I'm not sure if it is working, I can plug my laptop into one end and the Mango into the other. This is a situation where it will be a bummer that the Mango doesn't have gigabit ports.
I can plug the Mango's LAN port directly into a server, desktop, or other device that I need to work on or configure. That way, neither the device nor myself need to be on the local network, and the WiFi might let me sit somewhere more comfortable.
I can also give myself WiFi access on wired networks with no WiFi at all, or where I just don't have the WiFi credentials. Sometimes they're my networks, and I can authorize myself to do this sort of thing. I'm sure you could also come up with some nefarious use cases on your own too!
Can the Mango run Tailscale?
No. Maybe. I hope to find out soon. I tried the current unstable build of Tailscale for MIPS on the Mango and my aging home router, and I got an illegal instruction error. It sounds like the binaries were accidentally compiled without software floating point support, and these routers don't usually have floating-point units.
Why would I want to run Tailscale on my router or my travel router? To tell you the truth, I'm not entirely sure. All my portable devices are connected to Tailscale. All my important machines at home are connected to Tailscale. That means they can all connect to each other no matter where they are on the Internet.
Even so, having a $20 portable router that could become part of my personal Tailscale network just seems cool, doesn't it?
It looks like it will be easy to get it working once the binaries are updated, but I'm not sure how well it will fit. The Mango has 16 megabytes of flash. That's how big the current Tailscale MIPS binaries are. There's just no room for them.
Memory may be a problem too. We'll see how it goes. Assuming I can manage to get Tailscale running at all, and you're interested in doing the same, it might be worth upgrading to the Creta AR750 to make use of the microSD card slot for additional space!
Conclusion
I'm excited. The Mango is an impressive little device for about $20. It is going to come in handy, it is a nice upgrade for me, and I'm going to have fun with it.
Even more importantly, the Mango has put GL.iNet on my radar. They sell many reasonably priced routers that come preloaded with OpenWRT, and that is amazing. Finding a reasonable router that runs OpenWRT well can be difficult. Being supported by the manufacturer is amazing. My next home router will almost definitely be a GL.iNet device. Maybe it will be time to upgrade when I buy my first WiFi 6 device!
What do you think? Do you need this sort of travel router? Are you already using something like the Mango? Are you using it for something even more interesting? Or are you just excited about finding another manufacturer with reasonably priced routers that are shipping with OpenWRT? Let me know in the comments, or stop by [the Butter, What?! Discord server][bwd] to chat with me about it!