Roasting Gesha Coffee Beans at Home
I was running low on green coffee beans, so I started perusing the offerings at Sweet Maria's. One of my favorite beans I've roasted so far is their Ethiopia Guji Shakiso. So I did exactly what you'd expect, and I put a giant 5-pound bag of that stuff into my cart.
What else should I choose this time? I decided to sort their beans by price. The Guji beans are $6.75 per pound. I was curious how much more I could manage to pay for a pound of beans. I quickly found my answer. A bag of Guatemala Acatenango Gesha could be had for $15.50.
This doesn't sound like a lot. I'm used to paying $20 or more for a 12-oz bag of roasted coffee beans. These aren't roasted, though. The Guji beans that I'm roasting myself are at least as good as most $20 12-oz bags of roasted Ethiopian coffee I've ever bought.
If roasted Ethiopian beans cost three or four times as much as my green Ethiopian beans, would a bag of these Gesha beans really cost $35 to $45 from a reputable roaster? That can't be right. Can it?
Yes. It does cost that much. My Google search came up with a lot of places that were sold out, and they don't list a price, but one of the first places I found roasted Gesha was the Volcanica Coffee Company. They were charging $49.99 per pound.
How does the Gesha coffee taste?
This is probably heretical, but I've been making lattes with my Gesha beans. Delicious, amazing, awesome lattes. I most definitely lack the vocabulary to describe what I'm tasting, but I can definitely say that I like it.
The notes on the bag mention things like star jasmine, rose water, Assam, and rose hips. I have no idea what any of these things taste like. The bag also mentions sweetness and fruit bubblegum. The last bit is probably way more accurate than I would have guessed, too.
Quite a few years ago, Angels' Cup sent me a box of coffee. My first sip of Gesha immediately reminded me of one of those coffees. Those beans were aged in old whiskey barrels before being roasted, and they had a flavor that reminded me of Choward's Scented Chewing Gum.
Is roasting your own beans a good use of your time?
These Guatemala Gesha beans arrived at exactly the right time. Some of the arms on my carbon fiber quadcopter needed to be replaced last week. The frame is my own design, so I cut my own arms in the garage. Everyone assumes that this is a fantastic value.
I could buy two arms for the frame I used to fly for $10 shipped. It costs about $3 in materials and more than 20 minutes to cut my own arm. It isn't a good value, and it isn't a good use of my time. This doesn't even take into account the cost of the CNC machine.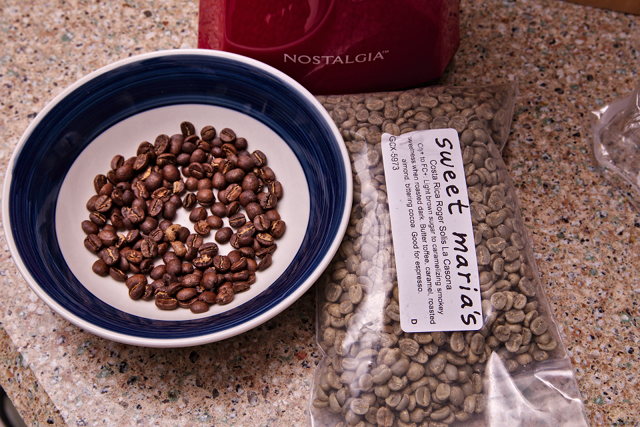 The same could be said of coffee roasting. Sure, I pay $6.50 per pound for Ethiopian beans instead of $20 or so, but I also have to babysit the roaster. I only get to do small batches in my air popper, so it probably takes 30 minutes to roast an entire pound.
Maybe trading 30 minutes of your time to save $13 isn't a good value for you, but Gesha beans are more expensive. Roasting my own Gesha is like paying myself $70 per hour.
Roasting at home isn't just about saving some money
Roasting is fun. Freshly roasted coffee is the best coffee. I get to control exactly how freshly roasted my beans are.
I get to control the roast level. I'm an oddball, and I like to pull my espresso shots with light-roast beans. Light roasts can be problematic for my Rancilio Silvia. I can roast a few ounces, quickly learn that I need to roast a shade darker, and make that correction for the rest of the bag.
I also don't usually spend 30 minutes in the kitchen roasting coffee. I can start a batch in the air popper while I'm prepping to make my latte. It takes about five minutes to get to a light roast on a small batch of beans, and it takes about six minutes to make a latte.
I can push through a few steps in my latte-making process before tomorrow's beans complete their roasting cycle. I have to be ready to take the beans off the heat at the signs of the first crack, so I can't be in the middle of something else that is time sensitive.
That just means my six minute latte now takes seven or eight minutes.
Should you roast coffee at home?
Yes. Absolutely. I thought it would be tricky, but it is quite simple. You turn on the air popper, pour in some beans, and listen for the cracking. It even sounds a little like making popcorn!
I'm about half way through my pound of Guatemala #Gesha #coffee beans. The beans and grounds don't smell as nice as the Ethiopia Guji Shakiso, but I'm pretty sure the Gesha lattes taste better. I guess I'll know for sure in about a week! pic.twitter.com/fhjx35RNKO

— Pat Regan (@patsheadcom) November 19, 2019
I wouldn't have started with Gesha beans, and you probably shouldn't, either. The air popper that Sweet Maria's sells comes with a free four-pound sampler of green beans. The sampler beans aren't as good as the Gesha or Guji Shakiso beans, but they're still pretty good.
Conclusion
Roasting coffee at home is fun. Guatemala Gesha is delicious, and happens to be a really great value for a home roaster.
Are you interested in roasting coffee beans at home? Have you already started? Have you already graduated from my beginner's air popper setup? Are you a fan of Gesha coffee? Let me know in the comments, or stop by [our Discord server][bwd] to chat with me about it!