What's Pat Been Up To? February 2020
I accidentally skipped my January update! Either I wasn't doing much that was exciting, or I was doing too much stuff, and the month just blew right by. You'd think I'd do a better job remembering to write these monthly posts after I yelled at myself for skipping November.
I'll try to do a better job next month.
These are kind of my Big Lebowski rug blog posts. They're here to tie together my blog posts and social media posts. I also write these for the folks that don't follow me all that closely, but still want to keep track of what I'm up to.
There are small topics in these posts that deserve more than a tweet or two, but they're not big enough or exciting enough to warrant their own post. There are also often hints about what's coming up as far as blog posts go too. I haven't figured out if that's the case this month. We will find out together!
My kidneys have been working well for almost an entire year!
I've barely written a word about my kidney problems. It seems like the only mention of it over on patshead.com is my post about making calcium-free lattes; I'm glad I don't have to make those anymore!
About a year and a half ago, I was in pretty rough shape. I was drinking a ton of water. I was tired all the time. I felt like I was hungry all the time, too.
I went to the doctor and explained everything. He checked my A1C level and confirmed that I was diabetic. He gave me a prescription, then sent me down the hall for a proper blood test.
I'm getting closer to making a tasty no-calcium latte. As it so happens, heavy cream has very little calcium, and a little cream goes a long way. I steamed a small pitcher with 30ml cream and about 100ml water today. I pulled a double shot with Ethiopian beans from @craftcoffee. pic.twitter.com/kdxD76b56W

— Pat Regan (@patsheadcom) November 16, 2018
He called me the next day to tell me my kidneys were in rough shape, and he scheduled me an appointment with a nephrologist first thing the next morning. He told me my eGFR was at 11, and my creatinine level was extremely high.
I started Googling, and I quickly learned that a GFR of 11 is really, really bad. The Internet told me this was stage 5 kidney failure.
Things have gotten much better. Everything is currently under control. You don't have to worry about me.
Before today, my last appointment with the nephrologist was 6 months ago. My next appointment is in 12 months. That feels like a milestone to me!
Fixing broken quadcopters!
I only fly for fun, but my 5" freestyle quads are my more serious setups. They fly great, they're sturdy, and they record awesome, smooth footage. I used to do my best to keep three similar 5" builds airworthy. I downsized to two early last year, and that's been working well enough. I rarely have two quads broken at the same time.
The arms on my own 5" Falcon freestyle frame design were problematic. I was in a hurry to get my own frame in the air, and I was lazy when designing the arms. They lasted from July until November, I believe. I improved the design a lot in that time, but the arms in the current CAD model won't fit my old fuselage.
All the holes are "drilled," and I'm finally to the exciting part. The part where I get to see that arms actually look right! pic.twitter.com/XqBMrMvG3U

— Pat Regan (@patsheadcom) January 31, 2020
So I did the lazy thing, and I cut the old, weak arms to get that quad back in the air. I broke one of those replacement arms about a month later.
A few weeks ago, the ESC in my second quad caught on fire, so I had a conundrum. I managed to find a soft but unbroken arm to get my Falcon limping along for a few days.
Last week, I cut newer, better, stronger arms for my Falcon. It is flying great again.
I upgraded the other quad from a 35 amp Holybro Tekko32 4-in-1 ESC to a 50 amp iFlight ESC. I could write 1,000 words about how much of a fiasco that repair wound up being. Instead, I'm just going to say that both quads are currently airworthy.
Playing around with cinewhooping, a GoPro HERO6, and ReelSteady Go
This has been a lot of fun. Much more fun that I ever expected. I already wrote a blog post about my first couple cinewhoop runs over at patshead.com, but I've had a bit more fun since then, and I've made some pretty big improvements to my cinewhoop setup.
On my first skateboard chase, I plopped a GoPro HERO5 Session on top of my 4" Kestrel. This worked surprisingly well, but the Session isn't a great camera to use with ReelSteady Go. I wound up buying a GoPro HERO6 Black. At the time, that was the only camera that worked well with ReelSteady Go without special soft mounts for your camera.
NOTE: This video isn't my cinewhoop. This is the first flight with my 5" freestyle quad that I ever ran through ReelSteady Go.
The camera upgrade made a huge difference. I switched from a small 4-cell battery to a larger 3-cell battery, and that helped a bunch. My 4" Kestrel is quite a bit heavier with this setup, while also much weaker using the 3-cell battery. This makes it easier to maintain a steady, even altitude, and I can follow Brian on his skateboard for almost 9 minutes now!
If you watch the video, the first segment is from our original attempt with the GoPro Session. The other segments were recorded later with the GoPro HERO6 Black and the bigger battery. I couldn't stay in close to Brian on the second attempt, because the park was too busy!
Upgrading Duct Faces on Tindie to carbon fiber
I've been talking about doing this for a long time. The 3D-printed Duct Faces take several hours to print. One of my plans since buying the Shapeoko CNC router was to redesign the SilverStone cooling ducts so I could cut them instead of print them.
I'm cutting the new ducts out of 1mm sheets of carbon fiber, and I am 3D-printing the mounting brackets. It only takes two minutes for the Shapeoko to cut a pair of ducts, and it takes less than 30 minutes to print enough brackets for each pair.
This is a bad photo. Even if I turn on all the lights, my camera doesn't want to focus on all this dark black.

My shortest M3 screws are about 2mm too long, and the math is off. The brackets need to be about 2mm farther apart to match the real duct fact. pic.twitter.com/CKwaZl5zrm

— Pat Regan (@patsheadcom) December 17, 2019
There's a bit more labor involved, and the materials cost more, but the machine time has been greatly reduced. The labor is only due to the use of 1mm carbon fiber sheets, because the sheets like to flex and lift up a bit during cutting. I expect to start using 2mm sheets to avoid this issue in the future!
Riding an electric unicycle (EUC)
I am super excited about my electric unicycle. I've already written about it three times in a week, so I will be brief here!
I've owned my electric folding bike for well over a year now, and I've enjoyed it a lot. I've put 350 miles on it so far. I bet I've ridden it to my favorite flying spot at a nearby park more than 100 times.
My biggest problem with the bike is portability. It weighs about 50 pounds. That doesn't sound all that heavy, but when it is folded up, it is still nearly four feet long. Hoisting that up into the back of the SUV is a difficult task. Difficult enough that I never take the bike with me in the car.
This is the same footage run through ReelSteady Go! pic.twitter.com/knBwdcMF5I

— Pat Regan (@patsheadcom) February 9, 2020
My InMotion V5F SoloWheel is so much easier to take with me in the car. It weighs 25 pounds. Lifting and stowing the unicycle is almost exactly the same as stowing my 23-pound FPV drone backpack in the car.
The unicycle is almost lighter than my bike, has more range, and can travel nearly as fast. The refurbished unicycle was also $150 cheaper than the bike!
The unicycle is very challenging to ride. I'm getting the hang of it now, though. I've been riding to the local park two or three times every day now. I'm trying to put at least two miles on it each day. Practice makes perfect, right?!
Kludging my Baratza Preciso coffee grinder back into service
I've been having trouble pulling good shots of espresso lately. I figured it was just a problem with my most recent bag of beans, but it wasn't. I noticed that Chris's low-end Baratza Encore grinder was able to grind significantly finer than my 6-year-old Baratza Preciso. This didn't seem right, so I disassembled my grinder.
Baratza includes a lot of inexpensive plastic components in their grinders–the idea being that snapping a $5 part if a rock or hard coffee bean gets stuck in the grinder isn't so bad, while destroying a $50 burr or $70 motor would be a real bummer.
I've had to replace the burr holder several times over the years. It is designed to be the part that fails first, and it is extremely easy to replace. I've had to replace the adjustment ring once or twice, too, and I had to do that recently. Maybe I goofed up?
Everything looked fine, and the adjustment ring was calibrated as far as it could get towards the fine end of the scale. It is possible that my burrs are wearing out, but Baratza seems to think that these should last through something like 500 pounds of coffee.
I have an extra upper burr that I ordered once by mistake. I saw it the last time I was repairing the grinder. I figured I'd learn something if I threw that burr into the grinder, but I can't find it.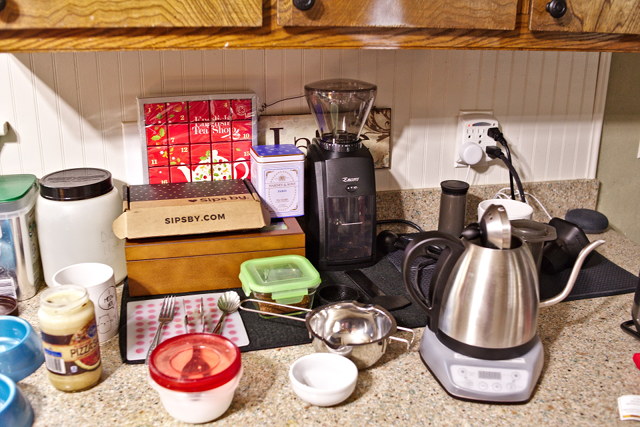 I'm not patient enough to wait for burrs to arrive, and I wasn't sure if I should spend money on the expensive parts. Maybe I'm just due for a grinder upgrade. Why sink $70 into the old grinder if that's the case? And if my doctor told me that my calcium levels were still high, I'd probably have to stop drinking lattes.
I cheated. I cut a circular shim out of a business card. I put the shim between the upper burr and the burr holder. This pushes the burrs closer together. It made a HUGE difference.
My finest setting still isn't quite as fine as Chris's brand new Encore, but I am able to choke up the Rancilio Silvia again. Maybe I should add another shim. Maybe I should just leave it alone for now and enjoy my coffee.
I'm going with the latter!
Flame-effect front-porch lights
Are they porch lights if you don't have a porch? Whatever you call them, I was in need of new bulbs.
When we moved in, one bulb was burned out. I fished through my box of old bulbs and threw a pair of old, worn-out 60-watt equivalent CFL bulbs out there. They held up for a while, but one burned out late last year.
The only LED bulbs I had on hand were 100-watt or 250-watt equivalents. I put the 100-watt bulbs in, and they were way too bright. I don't need my front yard to look like daylight at night.
A bulb outside was burned out, and all I had on hand were a couple of 100-watt 6500k LEDs. They were too bright, so I ordered these 1400K LED bulbs. They do some sort of fire animation, and they look much better than I expected! https://t.co/I6ofLSrhzF pic.twitter.com/KCTJfbQMUt

— Pat Regan (@patsheadcom) December 16, 2019
So I went shopping, and I found these outdoor-rated flame-effect LED bulbs at Amazon. They were about $9 for a pair. I believe they are 45-watt equivalent. I figured they might be hokey, but I had to give them a try.
You may think they're hokey, but I like them a lot. My friend Alex said I did a Skyrim mod to my house. When people say, "I'm in your neighborhood. Which house is yours?" I want to be able to say, "You can't miss it. It's the one with the torches!"
The bulbs have four modes. The default looks like a torch. One of the modes is just a solid light. You set the mode by quickly turning the lights off and back on. We have them in dusk-to-dawn fixtures, so they come on automatically when the sun goes down. They remember their last mode of operation, too.
I might build a third freestyle quad as a backup
I realized that I have everything I need here to build a backup quad. I have a fresh set of HyperLite E-series motors. These motors are identical in almost every way to the HyperLite 1922kv 2207.5 motors I run on my other two quads. The only difference is these cheaper motors have a steel shaft instead of titanium, and that chops about $9 off the price tag. I've been excited about trying these out for a while.
I'm officially back up to two working 5" freestyle quads. They aren't quite as identical as they once were. The frames are different, but similar enough in geometry. The one on the right got an upgrade from a 35 amp to 50 amp ESC while being repaired. pic.twitter.com/rQWHCYOKJN

— Pat Regan (@patsheadcom) February 4, 2020
When we flew with Alex Vanover for my birthday, he gave me an Infinity30 stack from NewBeeDrone. This 4-in-1 ESC and flight controller may technically be a downgrade compared to the hardware on my other two quads, but Betaflight can't really make use of the extra CPU power, and the additional gyro on my iFlight boards is only a minor improvement. In practice, I shouldn't feel a difference.
I have an old Runcam Micro Eagle, just like the cameras on my other two quads. I know I have some extra VTX modules, but I don't know what kind of shape they're in.
The only thing I don't have on hand is a frame, but this seems like a good excuse for me to cut a fully updated prototype frame, doesn't it?!
Conclusion
Outside of the electric unicycle, I'm not really breaking a lot of new ground this month, and I don't have any new and exciting plans for the next couple weeks, either.
I expect to be eating up a good amount of time practicing with the unicycle. Cutting a frame and building my backup miniquad will take a day or two, for sure. What else should I be working on for next month? I haven't vlogged in a while. Maybe it is time!
What do you think? How am I doing? Should I be working harder? Or am I just doing a good enough job by staying healthy and breathing?! Let me know in the comments, or stop by the Butter, What?! Discord server to chat with me about it!